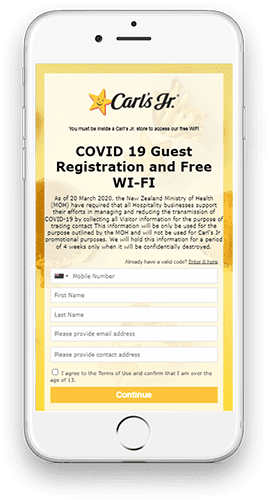 Collecting customer details for contact tracing.
COVID-19 is affecting industries and sectors across the globe with governments placing restrictions on social gatherings and meeting in public places.
However, as plans for customers in England to be asked to check in as they arrive at pubs and restaurants to aid the reopening of the hospitality sector, Splash Access has worked hard in developing a guest registration system for contact tracing per government guidelines.
The SMS Voucher system allows for users to continue onto the network quickly and safely as follows:
A custom splash page is provisioned to collect customer details for contact tracing and through SMS text registration, a voucher is shown to the server to prove a client is registered.
The SMS Voucher system allows for users to continue onto the network quickly and safely as follows:
Step 1. Wifi Registration
Step 2. SMS is sent.
Step 3. Voucher is shown to server to prove client is registered